Remotefox
Flexible data transmission and alarm monitoring
Retrieve measurement data and alerts mobile, wirelessly and fully automated worldwide via e-mail and SMS. Battery-operated data transmission system incl. modern GPRS modem !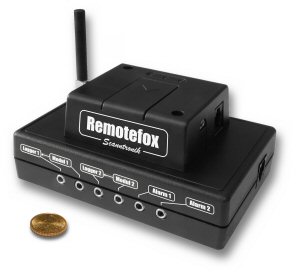 With Remotefox you get a powerful data transmission system for worldwide, mobile, and wireless retrieval of your measurement data.

Simply connect up to two data logging systems including your extension modules (universal sensors) directly to Remotefox. You receive the collected measurement data entirely automatically and comfortably at regular intervals as e-mail attachments. Once on your computer, you can analyse the measurement data in the same way as if you were on-premise.

And if you ever need your measurement data urgently, one telephone call and Remotefox sends them to you immediately. In addition, Remotefox is equipped with two independent alarm inputs for flexible and uncomplicated alerts via SMS or e-mail.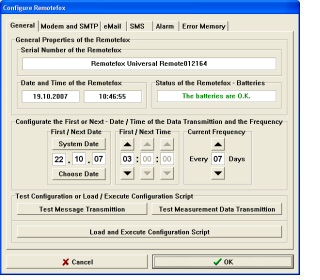 The complete system works independently of the power grid and is operated with eight normal baby-type batteries (please order as well). This way it can send hundreds of e-mails for over a year (depending on data logger memory). If desired a power supply can be connected. Naturally, you will be alerted should power be down or batteries low.


Configuration of Remotefox can be done easily and smoothly using the universal SoftFOX software on Microsoft Windows® XP, 7, 8, 10 or a newer version. With the help of this software you can configure the frequency of the data transmission, the e-mail recipients, cell phone numbers for SMS alerts, a delay for the alarm inputs, the SMTP server to use, and much more.

Features:
Fully automated transmission of measurement data via e-mail
Start time and data transmission frequency freely configurable

Two complete data logger systems plus universal sensors can be connected e.g. 2 x Thermofox universal stations incl. 2 x Multisensor modules for 2 x internal as well as 20 x external sensors
Two inputs for e-mail and/or SMS alarm (incl. alarm delay)

Unscheduled (asynchronous) data retrieval triggered by telephone call (with power supply)

Up to 10 x e-mail recipient addresses and 10 x cell phone numbers can be defined

High reliability as a result of alerts, status LED and system test on location via magnet

Flexible configuration possible with the optional SoftFOX analysis software

Crystal oscillator controlled real-time clock and real-time calendar

Power supply using standard 8 x type "C" baby batteries (please order as well)
Optionally available regulated 12V - power supply for continuous operation of the system
Battery capacity sufficient for up to 100 x transmissions with 64,000 readings each

Various SIM cards with GPRS internet access can be used

Special antennas available upon request

Dimensions 60 x 150 x 100 mm (HxWxD), approx. 300g plus batteries
Product
Price Each
Quantity
My Cart
Remotefox (remote data transfer)
Remote system for the mobile GPRS data transfer as well as alarm via email and SMS
EUR 668.07 (plus VAT)
EUR 795.00 (incl. GER-VAT)
piece
Remotefox startup support
Individual support for the initial installation of the Remotefox hard- and software (incl. online connecting)
EUR 71.43 (plus VAT)
EUR 85.00 (incl. GER-VAT)
piece
Power supply for Remotefox
Regulated 12V power supply for continuous operation of Remotefox
EUR 29.41 (plus VAT)
EUR 35.00 (incl. GER-VAT)
piece
Antenna for Remotefox
Removable antenna with magnet stand for Remotefox (lead: 2.5m)
EUR 29.41 (plus VAT)
EUR 35.00 (incl. GER-VAT)
piece
Battery for Remotefox
1.5V battery - type: Baby - C
EUR 1.68 (plus VAT)
EUR 2.00 (incl. GER-VAT)
piece
Data logger storage case (size 4)
Dimensions: 410 x 272 x 113 mm
EUR 46.22 (plus VAT)
EUR 55.00 (incl. GER-VAT)
piece
plus shipping and handling